Sponsorships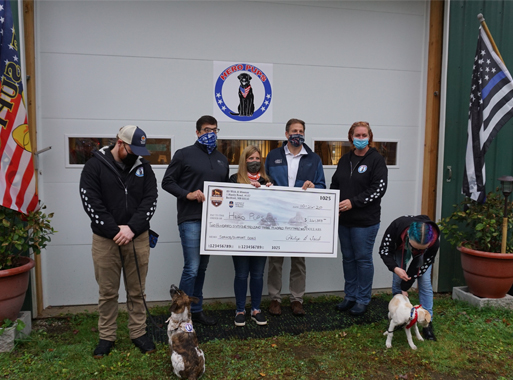 Veterans and first responders are our Heroes. They have given themselves to protect our country and way of life. A partnership with Hero Pups benefits your company by promoting its image in the community as one that recognizes, and honors, our Heroes.
Hero Pups relies on public support to achieve its mission of acquiring, training, and pairing dogs with eligible veterans and first responders. We welcome opportunities to engage with our community. We are a non-profit 501(c)(3) organization.
While we welcome any corporate sponsorship, we also have different sponsorship tiers to be referenced for what is included in each tier. There are also fundraising events held each year that offer additional sponsorship opportunities. We are happy to collaborate to develop a unique package tailored to your company. Please contact us to schedule a time to discuss sponsorship options.
SPRING 2023 UPDATE:
We have started construction on our new training facility and are actively looking for tradespeople, sponsors, and corporate volunteer groups. This project will allow us to better serve our Heroes by giving us a purpose-built space for our operations. If you or your company are interested in any of the above, please contact us!
Become a Corporate Partner Today!
Other Opportunities To Support Hero Pups
Many companies will match their employee contributions that are donated to Hero Pups through such platforms as Benevity; Network for Good; Your Cause; Fidelity Charitable; Pfizer; etc
Corporate volunteer opportunities
Employee volunteerism is becoming an ever increasingly important aspect of public relations, and the need for volunteers at Hero Pups is great. Hero Pups has numerous one-time or on-going opportunities for volunteers. Opportunities are available both during work time on Monday through Friday as well as on the weekends
Corporate donation drives
By sponsoring a donation drive at your company, your employees can help Hero Pups to meet its never-ending needs for supplies to raise and train our puppies. Examples could include pallets of puppy food; towels and blankets; monthly medications; dog houses; paper towels, large zip lock bags; dog safe ice melt; disposable puppy pads, etc. 
We are pleased to share some of our sponsors who have played a role in making our program possible.