Inmate Training Program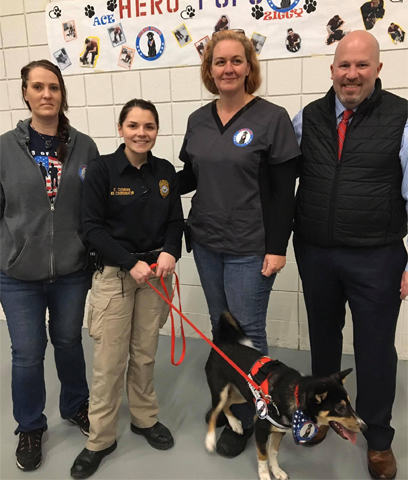 In addition to having the opportunity to help those on both ends of the leash, we've added another piece to our program. We've been fortunate enough to partner with Department of Corrections facilities to have some of our pups do their basic obedience training with inmates who are preparing to be released. This will help the pups on their path to service work, but it will also help the inmate participants learn new skills to give them more tools for success. Thanks to the supportive staff, the pups are also being incorporated into educational programs. Studies show that Animal Assisted Therapy like this help reduce recidivism while also accomplishing the goal of getting the pups trained. We thought we had a double win before since we get to help Heroes AND pups, but this truly feels like a trifecta. A Hero gets the service dog they need, a rescue pup gets a fresh start, AND an inmate gets to learn a new skill set that they can use after they're released.
We're very proud to be a part of something that will have such a lasting impact on all parties involved.