About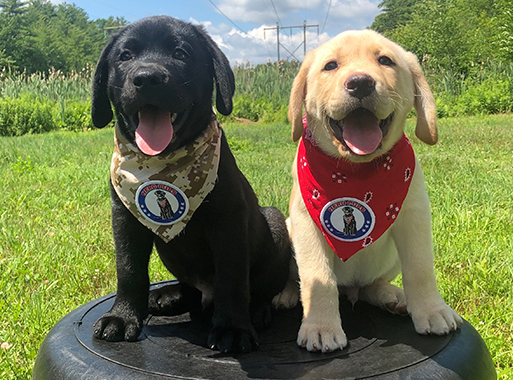 THE BASICS
WE ARE AN ALL-VOLUNTEER, NON-PROFIT 501(C)(3) ORGANIZATION THAT PROVIDES SUPPORT DOGS TO ELIGIBLE VETERANS AND FIRST RESPONDERS. IN OTHER WORDS, WE PLACE DOGS SO THEY CAN HELP PEOPLE.
HOW WE STARTED
Hero Pups is a New Hampshire-based, non-profit organization that pairs support dogs with veterans and first responders throughout New England who have been diagnosed with service-related psychological challenges. Laura Barker founded the organization after her son was wounded in Afghanistan. Hero Pups was founded on the belief that since our Heroes have already given so much, it's the least we can do to provide them a companion to help them lead
a happier life, free of charge. Hero Pups received 501(c)(3) status in 2016. Our program is headquartered on 50-acres of private, rent-free land in New Hampshire. Before our program's second anniversary, community members, local businesses, and volunteers came together to make our kennel building and quarantine zone for incoming dogs possible. And by our fourth anniversary in 2020, our sponsors and volunteers helped to turn an existing building into a training building. This included new flooring, insulation, garage doors, and furnace repairs. Our facility is not excessive, but the dogs have everything they could need and are very comfortable. We choose to focus on the dogs and Heroes – not fancy swimming pools or career aspirations. Hero Pups is 100 percent volunteer-run with no paid staff.
MISSION Statement
Hero Pups will use 100 percent of funds to acquire, train, and pair dogs with veterans and first responders with service-related traumatic challenges to increase their independence and peace of mind.
VISION
Hero Pups will serve as a model for minimizing operational costs and reducing wait times in providing free support dogs that are uniquely trained to meet the psychological challenges of eligible veterans and first responders. We are guided by our core values of appreciation, compassion, hopefulness, efficiency, and out-of-the-box thinking to search for new ways to expand resources that help facilitate growth. We hope to lead by example as dedicated stewards of the funds raised by our community and stretch every dollar as far as it will go so that we can reach as many heroes as possible with the funds we are entrusted with. Hero Pups aims to influence the service dog industry and show that successful support dogs can be trained without large costs to recipients.
OUR Dogs
Many of our pups are rescued from a network of shelters and rescue agencies. We occasionally have pups donated by reputable breeders as well. Temperament and health are the most important characteristics for suitable support dogs. All breeds are considered. We try to get dogs started in the program as young as possible to help them acquire the necessary social skills at the earliest age. The pups are profiled throughout the training process so that we can place them in a "job" they will thrive in; service dog, ESA, companion, or a facility / comfort dog. 
OUR Heroes
Eligible recipients ('Heroes') include veterans and first responders diagnosed with post- traumatic stress ( PTSD ), anxiety, military sexual trauma ( MST ), depression, and other service-connected mental health challenges. These support dogs facilitate the recipients' recovery by helping them to regain confidence and independence. Recipients report numerous benefits from their dogs including decreased medication usage, improved sleep cycles, improved social skills, and more. Support dogs have been shown to have a positive impact on members of the recipients' households as well. 
PARTNERSHIP WITH THE NEW HAMPSHIRE DEPARTMENT OF CORRECTIONS
As an advocate of Animal Assisted Therapy (the use of animals as a therapeutc modality to facilitate healing and rehabilitaton), Hero Pups partners with the New Hampshire Department of Correctons to train its support puppies. In an innovatve, impactul initatve to facilitate the prisons' drug recovery programs, Hero Pups' staf supervise inmates as they learn to teach the puppies basic skills and commands.
BOARD OF DIRECTORS