2019: A Year in Review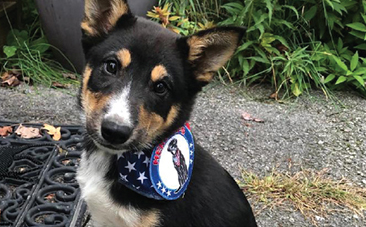 Every year I think "This is gonna be the best year yet!" And each year it's been true. 2019 brought us many firsts, many caring people and support from unexpected sources.
The year kicked off with the first Department of Corrections pups. It made international news and brought a new view on how our pups can help people even when they are training. The inmates volunteer to take a young puppy, follow our training program and help get the pups started on their basic obedience. With Megan from Inspire K-9's Training Center LLC leading the training class, 11 pups have moved through the jail towards graduation over the course of this year. It has been a huge success for everyone involved. In fact, one of the former inmates has become a puppy raiser in the more traditional sense and we are very proud of her and the pup she is raising.
Concord Police Department went all out getting Comfort Dog Liberty on the team. She became an instant star and has paved the way for many opportunities to have dogs help people in times of crisis. She is a celebrity that we are very proud of and could not have partnered with a better department to achieve another "first".
Just as Liberty was formally leaving to be with Concord Police full time, the next set of pups arrived. Three of those pups are following in her footsteps in the Comfort Dog program. Hudson PD has Haven, Franklin PD has Miller, and UNH PD has Charlee. The other pups from their litter have been teamed as service and/or support dogs and are doing quite well with their Heroes.
Several dozen other dogs have entered our training program and we are thrilled to have reached so many Heroes this year. There is nothing that puts a smile on my face more than the photo updates from our Heroes, whether it's their pup playing with the kids, adventuring with the family, or going to work with the Hero.
The annual Hero Pups ride with the American Legion Riders of Post 90 (Raymond NH) was an overwhelming success. The Riders created a special tour that included a stop at Berwick Fire Department in a ride to honor fallen firefighter Joel Barnes. It was an honor to introduce his department to the dog named in his memory. It was a heartwarming moment none of us will forget. From there we traveled through Dover and other towns and saw the stopped traffic as we passed – people waved, some saluted and some teared up – but all were impacted. Our friend from Positive Sarcasm came along with us and made this video of the day's events.
One of our Heroes who was matched with his pup last year has now become an outspoken advocate and even renamed his new restaurant Hero's Pizza, a patriotic place to honor service members. He and his pup, Nala, were featured in the wonderful video Freethink made in the spring about our program. It makes us so proud when Heroes reach a place where they feel ready to share more openly about their experiences, as it is a sign of great progress.
The Concord Chamber of Commerce has been a huge help to Hero Pups this year by allowing us to network with other like-minded people who want to help improve their community. They even enlisted the help of some friends to gather and present a surprise donation to our program. Concord has become like a second home to Hero Pups and all of our connections in the Capital City have been so helpful in introducing our program to another part of the state.
We had tons of events that included a 4 day fair, Veterans Day ceremonies, Seacoast Salutes, UNH Homecoming, Hudson Old Home Days, National Night Out (in multiple towns), Winni River Days, and so many more! We were also featured by many press outlets, including a mini documentary by Freethink, several features on WMUR, articles in the Union Leader, Concord Monitor, Seacoast Bark, magazines and several others. We even made the Best News of 2019 top 20 in American Profile! Media support is instrumental in helping us reach more Heroes and we are very grateful for all these publications telling our stories!
We embarked on our highest capital campaign yet – something that would change our entire operation. We struggled having indoor training areas when the weather was bad. We tried a few different models (renting space by the day, using donated space, etc) but it proved to be more of a hassle that a benefit. We were gifted a 48′ x 60′ building that needed some up-fit for our needs. We bartered, fundraised, begged and raised the funds to complete phase one. The training building was finished on Thanksgiving! Thanks to a couple of key volunteers and my wonderful family, we now have storage, outdoor pens, heat, and it's getting better by the day! We will be scheduling an open house in the near future to show everyone the results of months of hard work.
Contributions of both volunteer time and financial support were highlighted by Timberland, Starbucks, Temescal Wellness, and the Department of the American Legion. Without their support and the support from all our donors, we could not do this program. While we are proud to say that we are still all volunteers and we have no payroll or rent, we do have expenses to keep the pups safe, healthy and comfortable. Veterinary care and food are our largest expenses and each dollar matters!
We would like to take a moment to say thank you to the puppy raisers. They open their hearts and homes to a pup so that it can begin training for a veteran or first responder. This is not a small commitment, but so rewarding when the pup leaves with its Hero. We appreciate each of the puppy raisers – they are the backbone of our program. Toni, Greg, Kristin, Cherie, Sherri, Bob, Deb, Sarah, Laura, Jim – thank you!
The best way to stay up to date on the events and pups is to follow us on facebook – you don't need an account to follow us (although it is easier), you just need to go to our website and the newest postings will show on our page.
Thanks to:
Kyle from Strategic Marketing for updating and maintaining our website
Jay from Positive Sarcasm for recording some of our larger events
Timberland employees for always being ready to lend a hand with our projects
Starbucks for giving us the final push to reach our training building goal
Temescal Wellness for their continued commitment to our veterans and first responders by sponsoring a dog, again 

American Legion Commander Ouellette for selecting us as his Project for the year and the friendships that happened in its wake.
American legion riders post 90 for making each year's ride special, for believing in us from the very beginning, and always welcoming us like family.
Concord Police Department for making that first step so dogs can bring comfort to people during crisis. Chief Osgood made a bold move for all the right reasons and we will be forever grateful to be a minute part of helping people during times of crisis.
To the angel donors – your support is not publicly recognized, but is incredibly appreciated.
A heartfelt thank you goes out to everyone for making 2019 a banner year – and for helping us prepare to make 2020 even better!
– Laura, Board President
Ongoing Needs:
Puppy Raisers – we always need more!
Towels are still needed
Purina Puppy Chow
Crafters for Fundraising projects
UPCOMING:
First Open House TBA at the end of January / beginning of February
June 13, 2020 – 4th Annual Hero Pups Ride with American Legion post 90 – sponsorship opportunities open up this month (contact Shawn for info)
Matching donation cycle begins again later this spring – we will keep everyone posted as info becomes available
The next set of comfort dogs will be publicly announced by their police departments: two in NH and a university in MA.